Kirk Rademaker
creates brilliant
machines
out of sand. They have a definite steampunk aesthetic, and the attention to detail is amazing. It's somewhat sad that these pieces aren't made to last, but that's also a part of their beauty.
I actually came across quite a few other fantastic sand artists, and I may give them a post all to themselves when I have a moment.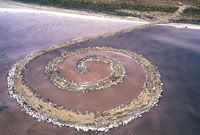 Robert Smithson
was an American land artist and a pioneer of the land art movement.
Spiral Jetty
, which resides at the Great Salt Lake in Utah, is his most famous work. It's 1500 feet long and composed of rocks, earth, salt, and red algae. I think it's absolutely beautiful, and interestingly, it's not always visible because of the fluctuation in the water level.
Walter De Maria, another land artist, created the
Lightning Field
in the high desert of New Mexico. It consists of 400 stainless steel poles spaced approximately 220 feet apart.
Todd Gibson of
From the Floor
posted an interesting
piece about his experience
at the Lightning field. Contrary to what I believed, the lightning doesn't actually strike very frequently, but Gibson gives a good idea of what an experience at the lightning field is actually like. It's intriguing.