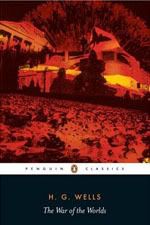 The Martians decide to come to England for afternoon tea, but upon arriving, they realize that they've nothing suitable to wear. They channel Nikon and design a wardrobe that would make Thierry Mugler drool. The Victorians are aghast as the Martians flaunt WAY to much leg for polite society, and they actively shun their tentacle laden visitors. Thus begins the
War of the Worlds
greatest fashion war that the galaxy has ever seen.
Who will find victory on the runway? Will it be the Martians decked out in finery woven from deadly black smoke and glorious red weed
or
will the Victorians reign supreme in their bustles, bodices, waist coats, and top hats?


I'll
never tell, but I will say that H.G. Wells has spun a fine yarn of alien invasion, and I thank
JRC-1138
for reminding me to read this book that I should have read years ago. It contained all of the anachronistic elements that stimulate me on an aesthetic level, and it truly did have moments that made my skin crawl (in a good way)…one particular scene that comes to mind is a certain Martian and its delectable human captive. I'm also quite fond of the red weed that invasively blankets the land (not unlike the Kudzu of the
Southern United States
), leaving the terrestrial landscape in an unfamiliar and discomforting state.